RNow

G-S Products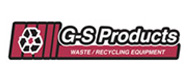 Shop G-S Products' Lifters, Camshafts, Refuse Trucks and Recycling Trucks for Sale or Rent
Currently there are no products in this catagory. Give us a call for updated inventory.
Recycling and Solid Waste Removal Vehicles and Equipment from G-S Products
G-S Products has been revered as a major player in the municipal refuse industry. The waste disposal equipment company sets the standard for innovative, durable and performance-driven solid waste removal vehicles and equipment. G-S Products specializes in garbage trucks, recycling trucks, side loaders, top loaders, compactors, and other solid waste recycling, refuse collecting equipment and municipal vehicles.
G-S Products is a proud member of the industry's most noteworthy affiliations, including the National Truck Equipment Association, the Solid Waste Association of North America and the Waste Equipment Technology Association. Now, G-S Products has joined the ranks of RNOW as an established and reputable municipal equipment and vehicle manufacturer. RNOW provides the G-S Products line in Wisconsin, Illinois, Minnesota and throughout our U. S. service area.
Contact our municipal equipment company today for all your waste management removal solutions.